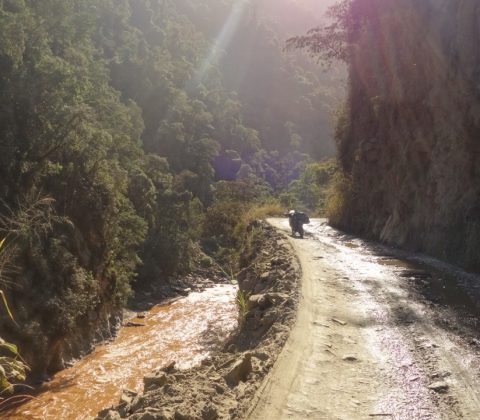 The Madidi Jungle experience
So the main attraction the last week would be the Madidi Jungle tour. The jungle was not really part of my plan to begin with, but it seems that everybody was/is stoked on how great it is, so when the Madidi jungle popped up on my radar, I thought why not.
But… I don't know if I had too high expectations for the trip or I am just and old ungrateful bastard, but again I found myself thinking was this it? I mean… it was fun to experience the jungle and all – even-though it was not as dark an dense as I had imagined it – but it did not seem like such a great revelation as others have made it out to be. For starters, I did not see as much wild life as I had expected. Well… I did know that wild life were more easily explored on a pampas tour, but still… the guide seemed eager to show us monkeys, and I was just thinking where is the puma or the jaguar!?!?!? But we did get to see some cool leaf cutter ants 🙂
I think one thing that also nagged me was that I had deliberately chosen a tour company that was not the cheapest one – the Madidi Jungle Ecolodge. Partly because they were going further up the river in the jungle (and they told me that would increase the chance of spotting wild life a bit) but more because I got the impression that some of my money would go to the conservation of the Madidi national park. Unfortunately, during my stay at the lodge, we did not get information about this conservation. I tried to ask a bit about it, but got vague answers. It probably did not help that the guide was not fully fluent in English (though advertised so) and there were several occasions where I did not fully understand what he meant. There were also occasions where he clearly did not understand my question either, but instead of trying to clarify my question, he would just answer that he thought I was asking about :-/
But it was a good experience none the less. I skipped the pampas tour, though. Mainly because when the local staff tried to sell me a pampas tour (and while reading about it on the net) they only mentioned the same animals as I had already seen in the jungle.
Ruta 3
But what was fun, though, was the Ruta 3 from Coroico to Rurrenabaque. Or to be more correct; the fun part was from Coroico to Yucumo.
First thing that got my attention was… hey(!) what is this car doing in my lane!?!?!? And by the looks of his sudden reaction, he must have been thinking the same about me.
Turns out, I was in the wrong lane. He stopped and explained me that on this road, you drive in the left lane. Reason: When people are going down the mountain, they will be furthest away from the cliff and thus have the best overview of on-coming traffic. To be honest, a couple of days earlier I had been told the same on the Death Road, but I just thought it was a rule they had made for the sake of the mountain-bikers on the Death road and not anywhere else. But along Ruta 3, there are two stretches which are left hand sided. I just missed the sign!1 But then comes the question… when does it go back to right hand side driving? Even the locals are not sure and the best advice is to proceed with caution…
Second thing about Ruta 3 is it's condition. It was gravel road and it was a bit more rough than what I had encountered at Ruta 25. I had kind of figured that one out when I heard/read stories about trucks and buses taking 15 hours or more to drive that stretch. But further-more, it is littered with pot holes. Not just on the gravel (which was interesting enough) but also on the asphalt. You can have (fairly) good asphalt, and then suddenly pot holes are littered on the road. Some up to a square meter in size, some 30-40 cm deep. Better to avoid these 🙂
In general driving on the road was an interesting experience. Some parts would be asphalt. Other dirt road. But I did not find the logic in which stretches were asphalt and which were dirt roads. It would vary between a few kilometers of asphalt, then some dirt road, then asphalt again. A couple of times you would only have 20m to 100m of dirt road before a new stretch asphalt would begin. According to a local guy, the problem would be corruption. I saw a plaque along the road informing about the construction of the road between La Paz and Trinidad (which covers Ruta 3). It was dated back in 19822. Along the road there are 2 good tunnels that have been build – but never taken into use. What would happen is that some company would get a bag of money to build (a part of) the road, but after a while the money would be gone and the work perhaps only 1/3 completed. Then a new bag of money would be given – but with same result. And so on… They are still working on asphaltising new stretches as we speak.
The end result? A funny mix of old un-maintained road with several pot holes and bumpiness (due to geological activity) along with rather new stretches of road in good condition.
Oh well… it just makes it a more interesting ride 😉 In the end, it was not as big a marathon as Ruta 25. Approximately 200km of interesting road, covered in 6-7 hours. But great views along the way 🙂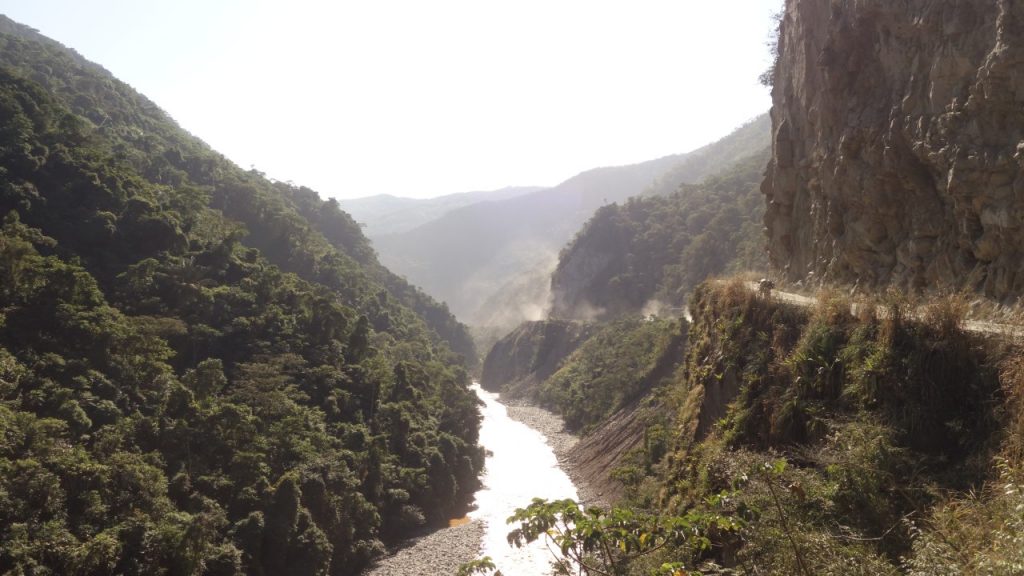 Next stop…
Lake Titicaca, Cusco, and Machu Picchu 🙂
Take care.
---
To be honest, I am not quite certain if I missed the sign, or if I saw the sign but just did not pay attention to it. The thing about signs in Bolivia is that a) when there is a sign prohibiting or ordering you to do something, there is rarely a sign negating the first one. E.g. if there is a speed limit, it is more or less up to you to guess when the limit is lifted again. And b) signs are often ignored. You are only allowed to drive 35 km/h? Locals go 80 or more regardless. Not allowed to take over? Who cares!?!?!? Even traffic light is ignored – like when you stop at a red light in La Paz, and there is a couple of police men just next to the crossing, and people behind you start honking at you because there is plenty of room for you to cross the light!?!? ↩
Or was it in 1988? Unfortunately I was not smart enough to take a photo of it… ↩