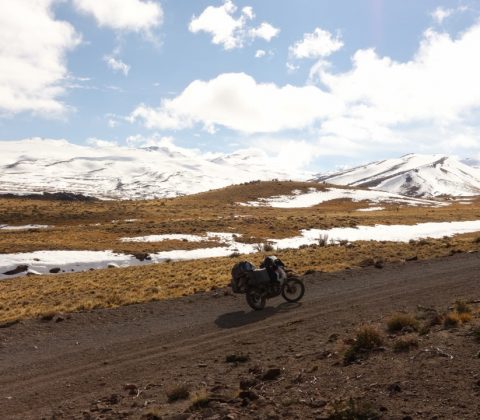 Meeting the Andes
While technically I have been traveling in the Andes for a while, I have now had my first encounter with the challenges of gaining higher altitude… here are a couple of tales 🙂
Parque de Nieve Cerro Wayle
On my way up north through the western parts of Argentina, I drove through Parque de Nieve Cerro Wayle. The national park encapsulates the Vulcan Tromen and the Laguna Tromen along with a shelter, so I thought I would check it out and perhaps stay the night.
Arriving there, it actually turned out that there was also an information office – but nobody was there – and there were some cabañas and an old shed with scrap parts of quick locks for ski boots!?!? Opening hours announced from 6.30 to 13, and 16 to 20. Clearly not happening today 😮 Everything was deserted. There were, however, two small cabañas which were open, so I made the decision to stay there for the night and went hiking a little bit up the mountains.
I spend a couple of hours walking around the landscape, reading, enjoying the silence – and noticing the clouds coming in. There had been clouds around all day, but now they were headed my way. And not clouds like up in the sky – well, yes – but I was at 2250m height, so I was "in the sky" and the clouds came rolling over the landscape. It looked really cool with the wall of fog coming towards me.
Fast forward a couple of hours… It was dark and cold, and I had been hiding away in one of the cabañas, cooking food, reading a bit, and listening to pod-casts. But at 8 o clock it had gotten too cold to be anywhere but in my sleeping bag, and being too tired to read, but not tired enough to sleep, the mind starts wandering and all sorts of questions starts to pop up… like…
How high was I up? GPS said 2250m – but how high is that really? I mean could I get altitude sickness? At what height are you at risk?1 Do I have a slight headache now? Or is it just me thinking about it? I was getting pretty exhausted and dizzy while hiking… But would they build a shelter/cabañas at a height where people could be at a risk?
And…
Was the wind picking up? Did I get the weather forecast right? That it should be fine weather tomorrow? I mean… what if it starts to rain… that would be snow with these temperatures… would I have to dig myself out of this cabaña tomorrow morning? And what if the snow would cover the (dirt) road… Would I be able to find my way out?
And…
With this fog… would my motorbike start tomorrow morning? It had had some problems earlier with moist weather… what if I needed help? Nobody was here, and more, no car had driven this road the entire day I had been here…
Lots and lots of worries… in the end I woke up to a beautiful morning, my bike started in the first attempt, and I had a lovely ride out of the park 🙂
There seems to be something to be learned from this experience, but I am not quite sure what 😮 I mean… definitely do it again, but perhaps be a little more prepared… I guess that comes with experience 🙂
Going back to Chile
I had been driving back and forth between Argentina and Chile a couple of times, enjoying the roads in the mountains – no problems at all2. So when my gps application suggested a new border crossing for going back to Chile, I thought not much of it. I could see that it would cross at 2800m height, but after hiking around in ~2500m height in the national park, I thought driving through 2800m height would be no problem.
Well… the view was amazing, of course. The road was dirt road, but mostly good. There were a few places where you had to be extra careful, like passing this…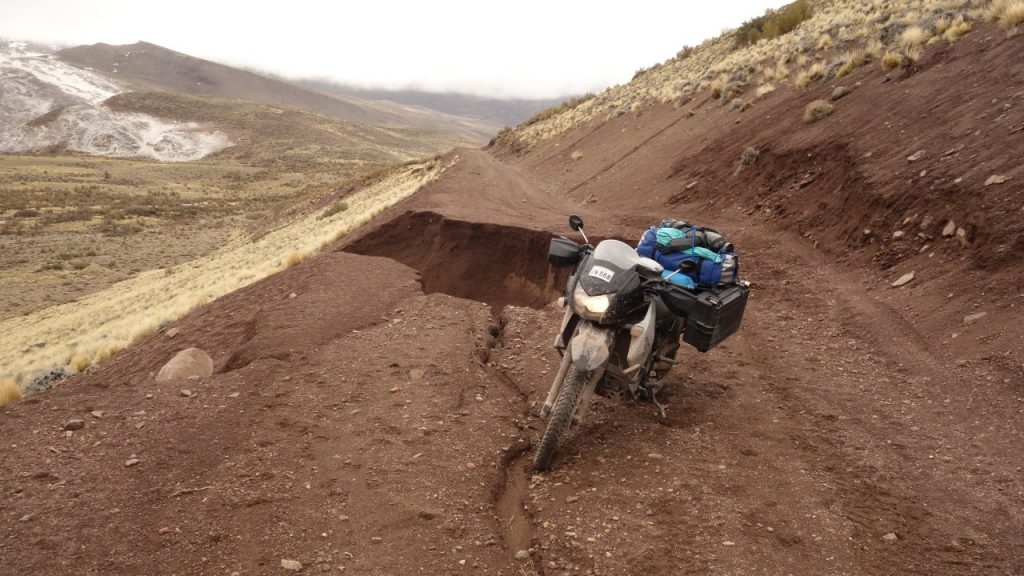 At around 2500m height, the snow started to appear on the landscape. No problem, though, the road was still clear. Well… at 2600m height, the road became a lot more uneven and harsh cobbles were spread out with a loose hand. Further more, snow and ice had started to take bigger and bigger bites of the road. So I had to realize that this way was a no go…
Returning back to the hostel I had left in the morning, I of course shared my story. The hostel owner was not very surprised of my findings! After all… that pass had been closed down since March, meaning even if I had managed to cross through, there would not have been any officers at the border, and I would not have been able to get my paper work done. Lesson learned? Learn some Spanish! Get more comfortable with asking locals for advice on your plans 😮
So, the next day I had the options of going up north to the Los Libertadores crossing near Mendoza, or to drive a bit down again to another pass, roughly 50km further south than the pass I tried the previous day. Looking at the twitter account (!) for the Los Libertadores pass, they announced that it would be open from 8 morning to 8 evening – but snow chains were mandatory! So I chose the southern crossing. Almost same height (2600m height) but paved road all the way. And extremely beautiful. I had said to myself to just drive quickly through it (I wanted to go to Santiago and had a long drive ahead) but you cannot go through this place and not stop for a picture! Or 10!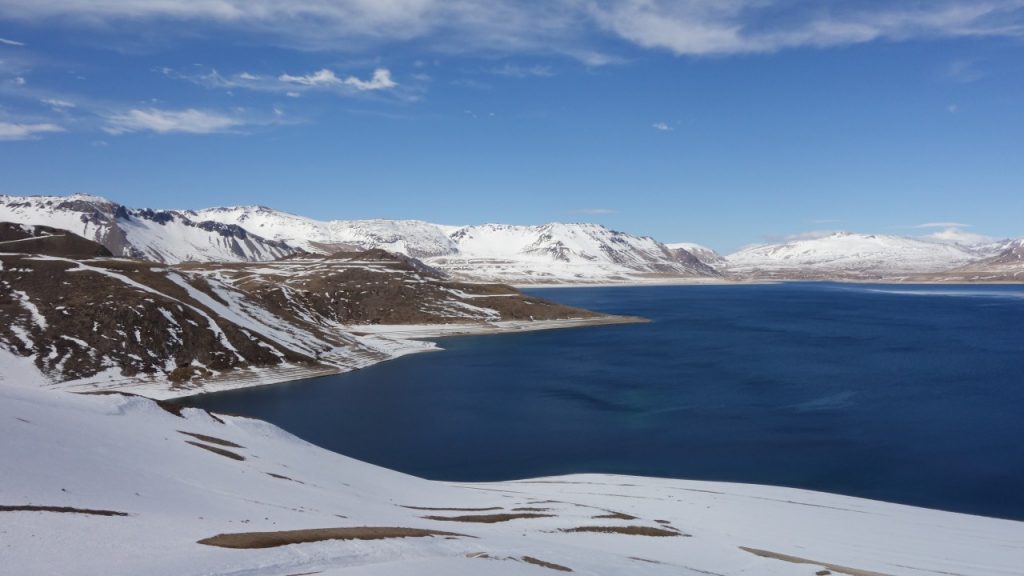 Santiago again
So… now I am back in Santiago for a while. I expect around one week – but who knows. The plan is to fix up my bike a bit and (of course) do some acro again. After that, I will start to go north. A big goal for me is Peru; to see the remains of the Inca culture.
Hasta luego.
---
Turns out, the critical height is around 2500m (altitude.org) so I was pretty safe 🙂 Hiking up the mountain, I may have been at 2500m height, but the "small mountain peak" I thought about going to the top of… turns out it peaks around 3600m height. So much for my ability to assess heights in the mountains :-o ↩
Well… a few small problems with the Chilean border officers. Chileans love their paper work, and each crossing seemS to have their own set of rules you need to abide to. Due to slow paper work, my bike is still registered as Tómas' bike in the Chilean computer systems, but I have official papers with me of my purchase of the bike. As a plan b, I also have an authorization from Tómas to me, allowing me to take "his" bike to different countries.
In my last crossing from Chile to Argentina, the customs officer (a young girl) has some concerns regarding my bike and a senior officer (older man) is called in to help. After some looking back and forth, he finally decides that everything is ok, puts a few stamps here and there, writes a reference on my authorization paper, and puts it in his drawer. I sort of panic and try to explain to him (escalating to insisting) that this is my paper; I need it next time I will be crossing Chile -> Argentina. He crams up and refuses to return my paper and even to speak to me. I call up Tómas for assistance and hands my phone to the young girl. She is about to accept it when the older man cuts in and disallows her to use my phone. I ask for a phone number to the office (so Tómas can call them directly) but no, they will not give it to me.
In the end, the police officer sitting right next to the customs officer accepts to talk to Tómas. He is apparently not disallowed to use my phone!?!? After some talk back and forth, I can get two copies of my authorization, but the original has to stay there. It is the rules of this border crossing! ↩