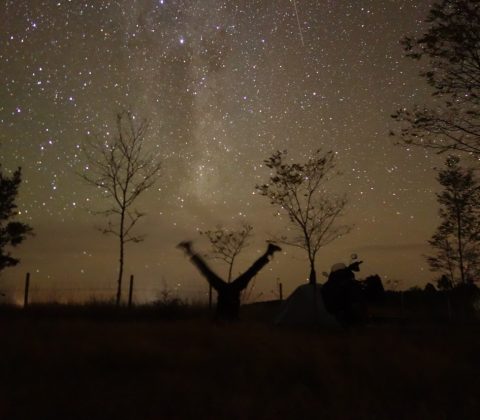 Chiloé
So… when I left you last time, I promised a photo of the active volcano. Well… it did not become a great photo – there was too much artificial light around it and no good places nearby to go with a good view and no light 🙁 But here goes:
So not much has happened since last – except for small lessons here and there. Like… sit relaxed on your bike while driving dirt road. Your bike works much better that way. But after 60km of dirt road, you will still be tired in your mind and shoulders, though. And check the ferry plan before your drive an hour to the city with the ferry. While getting to Chiloé by sailing from Pargua to Chacao was pretty easy1, leaving Chiloé from Quellón was not. The next ferry was a night ferry from 2am to 9am Saturday night – and there were no cabins. Only regurlar seats in a big passenger lounge. The probability of getting sleep in that place? Close to zero :-/
Another lesson was more a revelation of why it is so good that we do not have stray dogs in Denmark. They have plenty here in Chile, and while they were not so visible in Santiago, in the smaller towns they are more visible. First of all, they love to chase motorbikes. Don't know why… sometimes they chase cars as well, but mostly they have a keen eye for two wheels. They can lie absolute peaceful on the sidewalk (several cars passing by), but when I pass them by, they jump up, barking and running for about 30 to 50 meters. Don't think they would bite if they could – but sometimes you do get the feeling. Other behaviour includes territorial behaviour when in pack. Not quite fun when walking alone. And if they are not territorial they can be possesive – of you (as a tourist). One dog will "make you his friend2" and follow you while you walk. If other dogs come near (e.g. just passing them by) your "friend dog" will be aggressive towards them, but still kind and friendly towards you in hope of getting some food. Almost too friendly – like walking half a meter behind you or next to you, sniffing your legs. One dog followed me for a km and I was afraid I would be stuck on it all night – it waiting outside my tent, hoping for a snack. Luckily (for me) another camping couple did the mistake of petting it. Do. Not. Pet. A. Stray. Dog. It will think you are it's friend. So it followed them home. Unfortunately, they camped in the same camp ground as me – so I had a (luckily brief) visit from the dog later in the evening.
Ok – so much for the negative side of things. On the bright side… I liked the Chiloé. Nice roads in a hilly country side. Not quite mountains yet – but nice and green. I really liked the national park on the Island. It had a really nice little café with a beautiful view over the lake. Walking out to the sea felt a bit like walking out to the northen sea on the Danish west coast – although a bit more harsh. Not quite so fine sand and harsher waves. One little thing that you also notice (in a lot of places) are the little evacuation signs in case of tsunamis. And in case of Villarica, in case of a volcanic outburst. It all just reminds you that nature is a bit more harsh down here than in little Denmark.
And oh yeah… I almost forgot… I incidently ran into the climbing hall in Castro (the central city of Chiloé). Turns out, though, that it was "only" a bouldering hall for kids! But who needs climbing gyms when you live in Chile!?!?!?