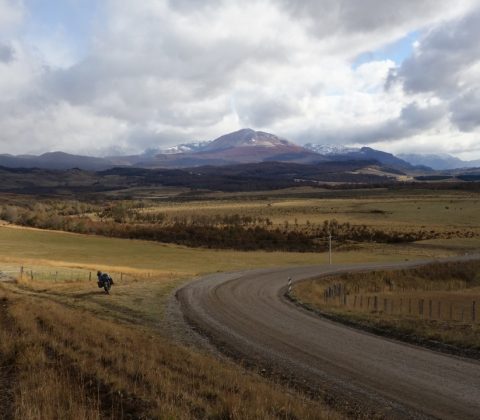 All the seasons
I love autumn. I mean, really love. It is one of my favorite seasons. At least among top 4 😉 When September comes, I can almost not wait to get my hiking boots (or motorcycle) and get over to Sweden. Taking a walk in the beautiful Söderåsen – or any of their other beech forests, for that matter – while the leave turns yellow, red, and brown. All the colors. It is simply amazing.
The last couple of days I have been driving back up north in chilean Patagonia. Winter is coming. It is getting cold and (unfortunately) wet. But it has its positive sides as well! We are in the middle of the Chilean autumn, and the trees are chaning colours. And the amazing thing is that, thanks to the mountains, you can have 3 seasons in one image. Summer green at the bottom, various degrees of autumn in the middle, and winter snow on top – or the bare black rock above the treeline. Simply amazing to drive through!
Anyway… my bike and I have become friends again. A new tyre and she1 drives really good 🙂 I decided to skip El Chaltén and Calafate – i.e. no glazier for me this time. The time I got in Perito Moreno opened my eyes to the situation I had gotten myself into. El Chaltén had become a goal for me. Not a goal because I wanted to go and see it (although the national park is beautiful) but because others had recommended it for me. And that was not the original plan!
From the beginning, I had two location goals on this trip: Patagonia and Inkas. And apart from that, the goal was to take it slow. So going to El Chaltén had become a stressful goal. Even-though there is a long time to August; if I want to take it slow, and still see Peru, then El Chaltén (and further south) had to go. And it felt good to let it go. To go back north – to warmer temperatures 🙂
So… now I am in Futalefeu. It is a really nice little town with beautiful scenery all around. I am lodged in a cozy hostel2 with a the wood stove in the common area. Absolutely great. And the hosts (Nancy and Nathanial) also seems really great 🙂 So the plan is to stay here a couple of days before I try my luck with Argentina again 😉
Take care – see you out there 🙂