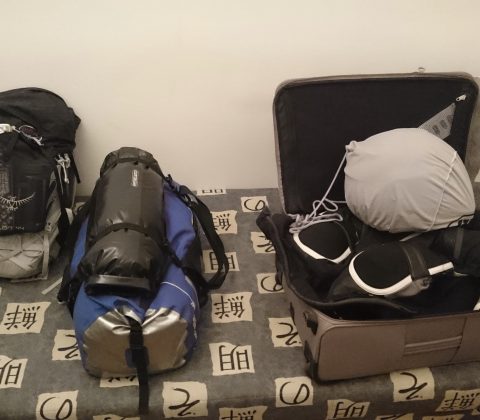 The packing list
Only two days left to my departure and my todo-list is almost done. It's a good feeling 🙂 Im looking so much forward to this. Excited and a little bit scared at the same time…
Anyway… just wanted to share my packing list. A little bit for those who wonders what one brings on a half year journey, but mostly also just for self reference, sorry. This is how it looks when everything is spread out:
In a bullet list:
LifeStraw Mission (water cleaning system).
Camping kitchen: Utensils, sharp knife, burner, a pot, 5L water bag, 1L water bottle.
Cleaning gel, hand sanitizer, quick drying towel.
Books.
Headlight, camp light, extra batteries.
Ear phones, ear protection, lock, pen, note book, sun glasses.
USB Charger, 12V USB charger (for mc).
5m cord, small biners, safety pins, mosquito protection (deo + head net), wax, compass.
Gerber multi-tool.
1st aid kit (bandages, plaster, ice bags, heating blanket, pain killers.
Camera + pod. 16Gb SD-Card. Perhaps I should buy an extra?
GPS-tracker (w/ satelite communication), Computer, Camera.
Smart phone. Don't expect to use it much except for maps.
Sitting mat.
Soft shell jacket.
Rain clothes.
City shoes.
Sandals.
Water proof duffel bag + day-hike backpack.
Net for dirty clothes.
2 x long undies.
Belt.
T-Shirt for sleeping.
Icebreaker sweater + other merino wool sweater.
7 x boxers + 7 pair of socks.
3 x Icebreaker T-Shirts
3 x Icebreaker long sleeves.
2 x Fjällräven hiking pants – one with zip off.
1 x Pair of jeans.
Thermarest NeoAir sleeping mat.
Warmpeach 600 sleeping bag (3 seasons).
SeaToSummit Spark Sp 2 sleeping bag (summer).
MSR Exlixir 2 tent – packed in a 13L Ortlieb dry bag.
Scarpa hiking boots w/ Gore-tex.
Beanie.
Buff (merino wool).
Hestra water proof gloves.
Dry bags: 13L, 2 x 7L, 3 x 5L, 3L, 2L.
Driving gear: Dainese driving suit w/ Gore-tex. Warm gloves. Helmet.
Extra suitcase for the airfare.
Not on the photo:
Tooth brush, electric shaver + razors, deo.
Yoga trousers.
And this is how it looks when packed together and ready to be loaded on the bike. Of course, things missing here are the food and water I'll need, and the motorcycle repair kit. But still… assuming that I will get a bike with side cases… plenty of space 😀