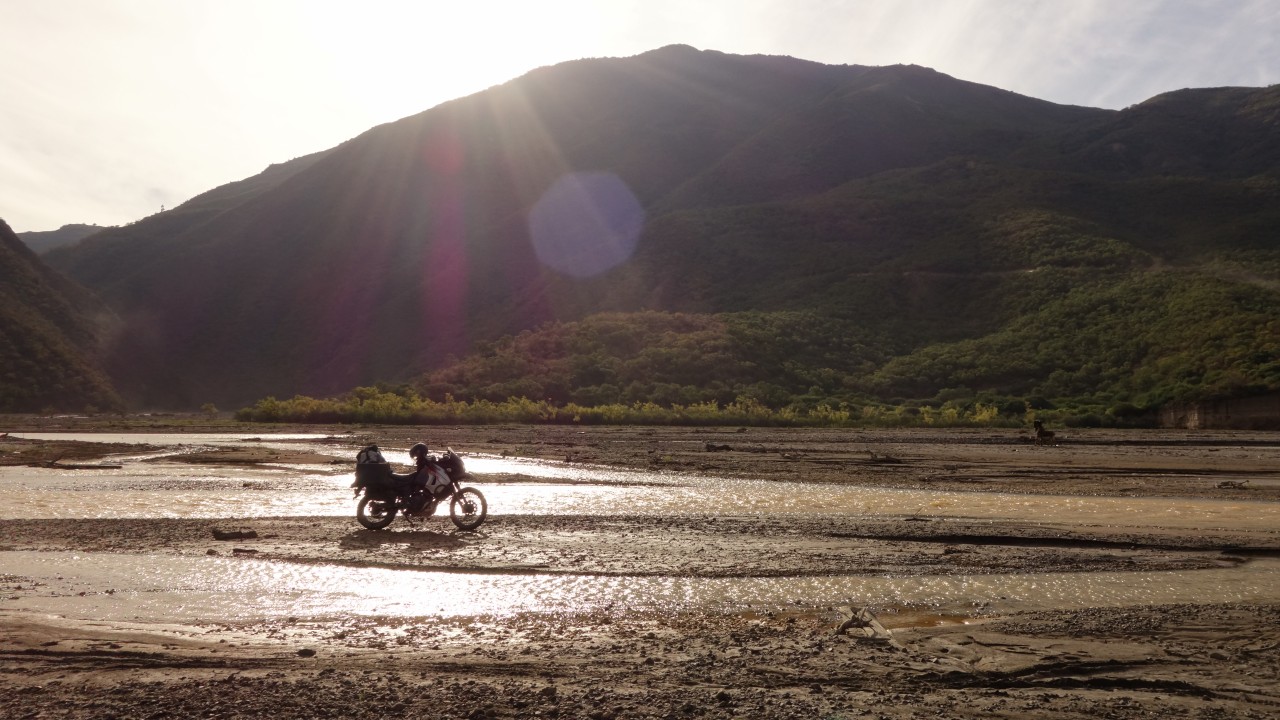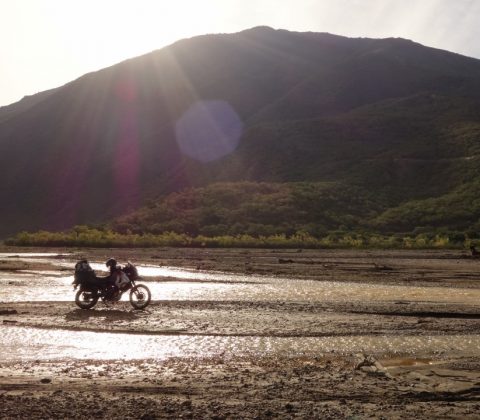 Ruta 25
At the moment I am sitting in a hostel in La Paz. It was not my intention to go to La Paz, but well… problems with my motorbike and you don't really get much help in the smaller cities. Even in La Paz, I think it is difficult to get decent spare parts for what you need. As I said before… you can get anything you want, as long as it is cheap. But you also get what you pay for…
Ruta 25
So it started with Ruta 25.
Ruta 25 goes from Cochabamba to Coroico and is a 450km stretch of dirt road. As the rookie I am, I did not quite realise that. I did notice, though, that I had troubles getting my GPS to draw up the route for me; each time I tried, instead of going directly through Ruta 25, it suggested that I took the long way west around the mountains – and that road would take 8½ hour. Perhaps that should have tipped me off…!?!?
Well… so I packed some food for a sleep over in the wild; it was 1 o' clock when I left Cochabamba, and I thought perhaps it would take a day and a half riding. Weather was good, view was fantastic, and I had read on a blog that other bikers had overnighted in Indepencía1.
It did not go as fast as planned. I still needed about 50km to Indepencía when it started to get dark. So I found a good place to camp (which is actually a bit difficult when you are in the mountains and all flat spots seems to be taken by small settlements) and called it a day. Next day I would take a long stretch and be in Coroico by evening. Good plan. Except – when I tried my GPS again (from current location to Coroico) it still wanted me to go back to Cochabamba (where I came from) and take the long way2 around. Perhaps that should have raised an alarm….!?!?!?
Day 2
Next morning… early up and going. At one point, I came to a river crossing. Information from other travellers3 had mentioned that there once had been a bridge, but now it was not there any-more. So you had to cross the river directly – which would be no biggie. Other motor-bikers had done it and it was the dry season. Not much water here…
Well… turns out… once you get a little bit closer… it doesn't seem so dry any-more. I went out into the river on the banks, but at some point I could not see my way through. My experience with water crossing had until now only been the small occasional water passages on the dirt road – mostly here on Ruta 25 – and I did not like the thought of getting stuck out there in the middle of the water :-/
Luckily I spotted 2 trucks coming down the mountain, driving my direction, so I thought I would just wait a bit and tag along with them. They came down to the river and started crossing it without hesitation. The water reached two thirds up on their wheels and I though "Ok – if that's the way, then that's the way…" and followed.
Don't quite know if I missed the exact same trail, or if I just mis-judged the water level on the trucks, but suddenly the whole idea did not seem that well. The water quickly soaked my boots and I immediately remembered the words of Mick and Tómas saying that the KLR did not go well with water too high. Well… no way out – I did not like stopping right there – so I gave more throttle, and then the water got deeper – now reaching my knees.
But in the end I got through (of course 😉 ) and I was safely on the other side. Great 😀
But it had also taken a bit of time, and looking at the GPS, I realised that I was far far from my goal of Coroico. I had to make it another night out here. Long story short, I was offered to sleep in a communal house in a small city. This is where I met my favourite Bolivian electrical installation.
Day 3
Ok – last day. Surely I would make it to Coroico today. My boots were wet – but the GPS finally accepted that the shortest route was along Ruta 25 – and it said I would be there at 15 o' clock. This was also confirmed at lunch time where a friendly local asked where I was going and replied with the same time estimate.
Not so fast, my friend!
The time estimate kept shifting during the afternoon. Don't quite know why – but slowly 3 became 5, which became 7, which became 8. One of the more critical things that happened was that my rear brake broke. One of the bolts that holds it in place snapped and then, of course, no brake function. At that time it was already 5 o' clock (sun sets around 6 o' clock), my feet was starting to hurt from being in the warm wet boots all day, and I still had 80km left. But I did not like the thought of camping another night out and the GPS kept saying that I would be there soon – so I pressed on.
I finally reached my hostel (Hostel Sol y Luna – recommended by other travellers) at 8pm. The hostel also had a restaurant associated with it – which I had been looking very much forward to. Unfortunately, because this is off season, the restaurant closed at 8, and since I did not feel like walking down into town (1km steep down hill with sore feet) that evening's dinner consisted of rice, bouillon, and canned tuna. Not quite what I had hoped for :-/
In total, I spend 18.5 hours driving – not including time for eating, photos, camping etc.4. I had a an average speed of 25km/h. All 450km driven in 1st and 2nd gear.
Coroico, Death Road, and La Paz
So I spend a few days in Hostal Sol y Luna in Coroico, trying to fix up my bike. In addition to the brake that needed repair, also the gear pedal was a bit loose, the horn had stopped working, the battery had died, and the tyres were closed to be worn out. While the brake and gear pedal was fixable in Coroico, the horn and tyres were not. Well, not so critical. Most critical was the battery. Two cells had been emptied (perhaps on the two occasions where I had my bike down on the side?) so I filled it up with distilled water, but was unsure if it would work again or not.
Long story short – I decided to change my plans and go to La Paz for a new battery. Tyres and horn could wait a bit – but the thought of having to run-start my bike each time I stopped did not seem appealing to me. So I took the Death Road up to La Paz.
Verdict?
Meh…
I had more adventures on the Ruta 25. I am sure the views can be great on Death Road – but most of the time that I spend in Coroico (including today on the death road) it was cloudy / foggy. Furthermore, the past 5 years the Death Road has been sanitised a lot (with barriers so people don't drive off the cliff in the curves) and the only traffic on the road are mountain-bikers going downhill. Not nearly as exciting as an oncoming truck on Ruta 25 that just honks twice before going into a curve 😉
The battery seemed to live up after a couple of hours driving (great) so instead I spend the whole day looking for good tyres. Tomorrow I will hopefully have my (fully functioning) KLR back – and I will try to head towards Rurrenabaque – which apparently is the place to go for a jungle tour and a pampas tour. Update will follow 🙂