Lake Titicaca, Machu Picchu, and Cusco
Lake Titicaca and Machu Picchu had been one of the few must-do things I had on my todo list when leaving Denmark – and now, here in July, I got to visit both 🙂
Lake Titicaca
Lake Titicaca… what to say…? On one hand great to finally be at the famous lake – on the other hand… it is just another lake. I think I had envisioned a much lush green environment than it actually was. Something with forests and flowery bushes – a bit junglely – down to the shore of the lake, while instead it was this stony mountain landscape with yellow-brownish grass all over – not many green green colours to see :-/ But ok – it is also in 3850m height and it is winter down here.
Anyway… it was a great experience none the less. The community out there1 is real rural Peruvian culture. Not many tourists come there (yet) and so the landscape you drive through feels really authentic. I had sought out a hostel run by Felix Turpo with good recommendations, but first challenge was to get there, though… Felix's hostal is located 100m away from the main (dirt/gravel) road – 100m down a steep hill side with only a pedestrian's pathway to drive on. At the bottom you turn a 90 degree corner, and drive along the edge of a cliff. I have been talking about driving along exposed roads before, but this, I think, is a worthy contender for the exposed-road prize:
There is actually not much to do out there, so Felix offered to arrange a trip to the floating islands. I had vaguely heard about them, but really… I had no clue of what they were, so I said yes, and before I knew of it (the next day, actually) I was on my way to one of the smaller islands, named Uros Titino.
Arriving to the island made some alarm bells ring, though. I was greeted by the President which sat me down to explain me how the island was made out of rush; it took a year or so to build their island and it will last… was it 15 years? Anyway… it immediately became clear to me that I had walked into a (smaller) tourist trap – just the kind of thing that gives me red goose bumps. They live of inviting tourists to their island (a small donation of 10 soles is appreciated) and selling them artesanal stuff (souvenirs). But I did get a trip in their boat of rush and it was a nice relaxing trip out there. So ok… not so bad 🙂
Machu Picchu
Machu Picchu… Before we actually go to the Machu Picchu section, we will take a small de-tour to Llactapata. In an attempt to avoid the big tourist crowds, I had searched a bit on the internet to find alternatives for Machu Picchu – and up pops Llactapata.
Llactapata is (yet) another site with Inca ruins and is located up another mountain ridge about 5km west of Machu Picchu. It has yet to be fully adopted by the Peruvian government as an important Inca site, but people are working on it. The uptake is slow, however, and there was not much information on the net about Llactapata. So I packed my camping gear and trudged up the hill in hope of a great solo experience – and perhaps a great sunrise picture over Machu Picchu 🙂
Reality…
Reality of the Llactapata experience… not a solo experience 🙁 Apparently the trail I was hiking up the mountain on, was one of the old Inca trails that tours guide tourists down (towards Agues Calientes2) at the end of a 4 day trek. I met several groups going the opposite direction of me and about 15 minutes before the actual Inca ruins is little hostal/restaurant/camping site. I had actually seen it on one of the on-line maps – but did not dare to trust the information. Who would put up a lodge there? And there was also a little shop marked on the map – which also turned out to be true. Although, all they seemed to have was bananas, mandarins, and bottled water.
Anyway… my plan was to walk on up to the ruins and camp there – alone. Unfortunately, when I got there, there was a sign with camping prohibited (of course) and instructions to go to the camp site. Damn. So me back to the camp site to join the 7-tourists group camping there already. But… the view was great. Open landscape over to Machu Picchu – and with that a little thematic follow-up… We have had breakfast with a view. We have had lunch with a view. Here it is… Evening dinner with a view:
Unfortunately Machu Picchu is completely surrounded by higher mountains all around. Hence, the sunrise picture went awash… when the sun peeked over the mountains, it had already shed its colours 🙁
Machu Picchu
So… Machu Picchu. You can either pay 12 USD to take the bus up from Agues Calientes3 or take the stairs. I choose the latter option:
I had booked access to the Machu Picchu Montaña4 as well, and thus… 3hours and 3200 steps later (yes, I counted them5), one get to make a selfie 🙂
About Machu Picchu itself… It was great. If you look at just a single building… then not so big a deal. But the city as a whole… that is an amazing piece of work and art. And of course, the most sacred buildings do really have amazing stone craftsman ship. Big big boulders, cut and polished into a perfect a fit, and then mounted on top of each other in roughly 2500m altitude. Amazing!
The area is actually an earth quake zone – and Machu Picchu is (of course) build to endure that. The Incas did not use mortar. The stones are just placed on top of each other, tilting slightly inwards. When an earth quake hits Machu Picchu, it is said that the stones dances on top of each other, and then just fall back into their intended positions. Simply amazing!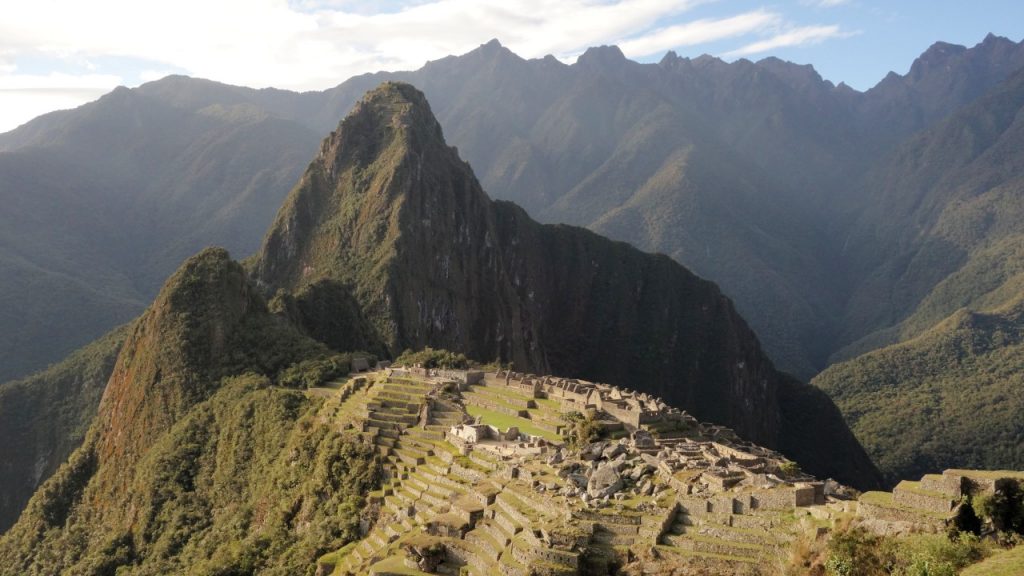 Cusco
Cusco… At first I loved it really much. As a tourist, you of course only walks around the old city part. It is amazing! The old city part is protected such that the owner of a building must maintain the outer appearance of the building in the old style. Hence you can see lots of old buildings (both Inca and Spanish) that is kept in really good condition. Western companies such as Star-bucks and KFC are of course present, but they are not allowed to put up big neon signs. Instead they are limited to a neat little logo that fit into the environment. Me gusta 🙂
On the funny side… Nobody seem to take notice of the traffic lights. This is no news for me as I experienced this in La Paz6 as well, where everybody just seemed to drive where-ever they could. What is news is that the (local) authorities seems to have acknowledged this problem. But… instead of educating the public and/or handing out fines to traffic light violators, their solution is to station one or two traffic wardens (women) in the light crossing. Not to keep order per se, but to look at the traffic light, and indicating go go go to the direction with green while blowing their whistles. Pretty silly.
And while speaking of whistles… here comes the not so fun part of Cusco. Tourist police (to keep tourists safe) walking around near the square, doing nothing but blowing their whistles from time to time. Apparently this is to create awareness of their presence (yes, I can see you clearly in your neon green west, thank you). Cars honking all the time to get attention because they also function as a taxi (but with no sign). Locals trying to get your attention to sell you sun glasses, polish your shoes, "free" massages, and souvenirs. There is never a second of peace and quiet in the city, and after 3 days with this, I felt that I had seen what I needed to see of Cusco.
Next stop…
Arequipa – I think. With my visit to Machu Picchu, I have reached my second big goal I had with this trip (Patagonia being the first) and I will now slowly drive southwards to be in Chile in August.
Thank you for reading… take care.