Was this really what I wanted?
So I wanted to experience an adventure, took a plane to South America, bought a motorcycle, and drove off. Part of it was to try to be on my own again, camping out all alone, and experience the freedom of being all by myself. And after some "hard work" it finally seemed like I would get my wish fulfilled. I was driving on a road all by myself in Argentina. Sun was shining. Pod-casts in my ears. Food in my bags. Everything looked good 🙂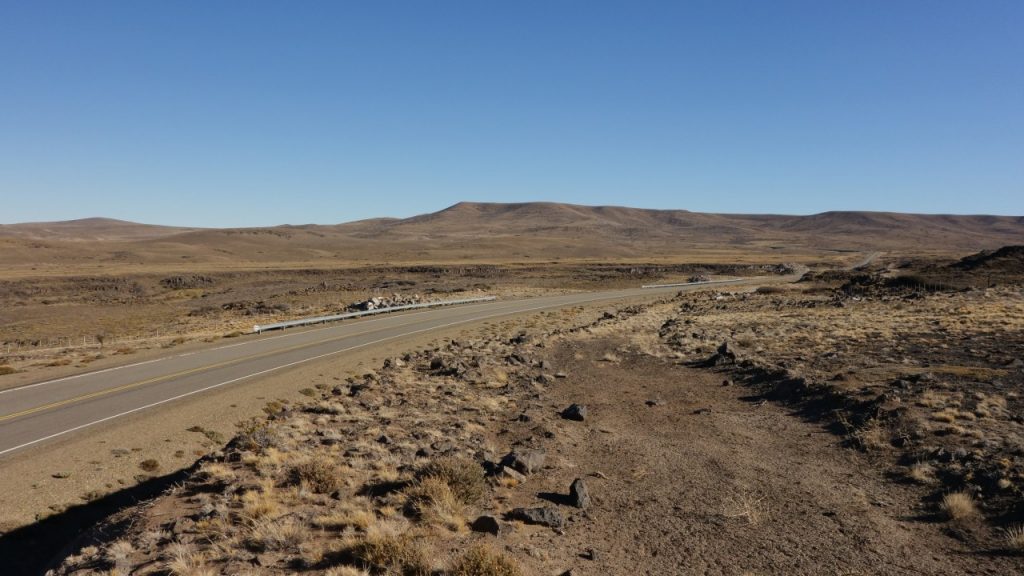 Driving there, enjoying the feeling, it suddenly felt like the road had gone a bit slippery in the curves. The next curve confirmed the feeling and this time a bit stronger. A quick stop and inspection confirmed the suspicion: A flat rear tyre. Bugger!
Ok. No worries. Sun is shining. I got the tools. And although it would be my first time repairing a motorcycle tyre, it was no biggie, and I got to work with a good feeling.
Looong story short… it did not go so well. After help from 1 truck driver (which just stopped to help when I was working by myself) and a group of experienced motorcycle drivers, the end result was 4 new holes in my original tube, a realization that my spare tube was also defect, and the time neared sunset. It would be getting dark within an hour and solutions were getting sparse. As a last effort, the support car for the group offered to use a repair spray1 on my tyre. The advice was that it would not hold for long, so hurry hurry up, pack your gear and drive to the next village, Bajo Caracoles. Bajo Caracoles would have a gomería2, which would be able to help me with a permanent solution. But hurry, hurry, pack fast and drive. And with that, they packed up their things and were gone – and I was again alone.
So I too packed up my things quickly and drove as fast as I dared on a quick-fix tyre to Bajo Caracoles (20km). It went well. I camped in the city, and the next morning I drove to the gomería and (with the help of an Austrian couple) got him explained that I needed a better fix of my tyre. This went not all smoothly. He had some troubles with the tyre and I was not quite sure if he was swearing at me or at the tyre. So I kept my distance. But around 2 o clock, I was off again.
Something was wrong, though. The tyre was vibrating a lot when driving. Probably because the gomería did not have the machine for balancing the wheel. No worries. Mick had told me that they only recently started to balance their wheels – no biggie. It only had to hold until Santa Cruz; the next bigger town where they might have a more competent workshop. Only 200km to go… Bum… and I was suddenly skating with 80-100km/h!
The tube had exploded and I had to control the bike to a halt. Luckily it happened while driving straight, and I managed to stay on the bike. But now I was sitting 20km away from a small town with nothing that could help me, and almost 200km to Santa Cruz, which might have a new tyre/tube. The wind had picked up, clouds were coming, and the first rain drops had hit my head. I was definitely not so self confident any longer. A few cars had passed my by. I had stopped one, but he definitely did not seem eager to help me and explained a lot to me in Spanish. I understood that he wanted me to go back to Bajo Caracoles and he was going to the country side. Goodbye.
So, while I was sitting there, taking shelter from the wind behind the motorcycle, one question appeared:
Was this really what I wanted, when I wanted to try to stand on my own legs?
First sulking a bit at the situation, then laughing a bit – what else can you do? – I realized that the best thing would probably be to stop a truck and hope that he would have space for a motorcycle. And behold… within long a truck pulled up, all empty, and took me and my bike back to Perito Moreno, where hope would be that I could get my bike fixed. And even better… The truck driver had picked up Brian, a hitch-hiking traveler from US that also spoke Spanish, which then took the job as an interpretor between me and the truck driver 🙂
What followed was two days of Brian and me walking around in Perito Moreno, looking for solutions, fighting siestas and weird work mentality in Argentina. Finding a solution was apparently not easy. The bike quickly got installed in a gomería, but it also quickly became clear that they did not know how to handle motorcycles, when they a) started to dismantle the rear brake (not necessary for taking the wheel off), and b) suggested to use a truck tyre. Still not sure if the last thing was a joke or not. The only repair shop that worked with motorcycles did an intermittent repair of the spokes on my wheel (two were missing and 3 were broken), but then sold us two tubes that were to old, and thus broke as soon as they were inflated in the tyre. Only one gomería would/could mount a motorcycle tyre, but the guy who knew how to operate the machine were not at work when we came. When would he come? No one knew, and the rest was lost in translation.
Bottom line… after two days of walking around in Perito Moreno, I finally got a tyre with a tube with air! The tyre is my original tyre, which have taken some damage. When I drive, the tyre is uneven, and the motorcycle shakes up/down and left/right. Not good. But I have successfully managed to drive 75km back to Chile Chico (in Chile). Tomorrow I will take the ferry to Puerto Ingeniero Ibáñez, and then Monday drive the 125km to Coyhaique, where there is a motorbike shop I hope can help me. They definitely know more about motorcycles than any other shop in the area. I am not sure the tyre will hold – not sure at all – but I don't quite see any other possibilities. And if it breaks down again, half way to Coyhaique… well… then there is another adventure waiting 😉
Until then… I just want to thank Brian for his great help, trotting around in Perito Moreno as an interpretor, and for his great great company. Thank you, Brian. It really made the whole situation a million times better!